My Site Build It! Story
It has always been a dream of mine as a mom of three to be able to stay at home with my children and not have to work outside of my home.
After our second child was born I really started thinking seriously about it and looking around for solutions.
I was talking to a girlfriend of mine at church one Sunday morning and she told me about a company here in Canada that she worked for. They allowed you to work from home doing customer service on the phone for various companies and you ran it as your own home business. Of course I was very intrigued with this option and because she was a good friend I trusted her and decided to take the plunge. I quit my job that I had worked at for 8 years as a bookkeeper and started my new work at home adventure September 2007.
Not My Dream Business
I started working for a really great company and I liked that I could make my own hours and work whenever I wanted. The calls were fun and interesting and I enjoyed helping people. I set up a home office in my basement and everything was going well.
After a few weeks of being down in my basement office, stuck on the phone with no background noise allowed, and still away from my kids even though I was in the same house; I realized that this may not be the dream work at home business that I hoped it was.
I had my mom who I call 'Super Grandma' taking care of my kids and I could go upstairs and see them whenever I wanted but ultimately I was still not really "with" my kids. It was not the best solution for me.
How I Found Site Build It!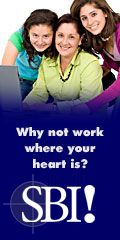 I started searching for solutions on the internet. I was thinking that maybe there was something else out there that I could do from home and still be able to see my kids. What I didn't know at the time was that was a really tall order.
One thing that I did notice in all my surfing was that I started to see many similar web sites in the top page position in Google with a similar banner at the bottom that said "This Website Built By Site Build It!" My thought at the time was that these Site Build It! websites seemed to be doing really well in the top 1 or 2 positions in Google.
I finally clicked on one of the bottom banners and started reading all about Site Build It! and how you could build a REAL business on the internet. It seemed interesting so on January 2009 I took another leap and bought Site Build It! and started TipsForMoms.com.
At the time I did not really know what a powerful tool I had in my hands. I just followed the 10 Day Action Guide and slowly started my internet business.
My Internet Marketing "Education"
If you know anything about Site Build It! then you've probably heard that their mascot is a turtle. You know, "slow and steady wins the race". SBI (Site Build It!) talks a lot about get rich quick schemes and how you have to be careful about the products and systems you purchase on the internet that promise quick riches.
I didn't pay attention to these warnings and after two to three months I got board of building my Site Build It! website and lost focus. I started getting bright shiny object syndrome and get rich quick dreams. This was my biggest mistake.
I spent thousands of dollars on products, programs and systems that promised so many things but never delivered. I followed many famous internet marketing gurus and joined many email lists. Everything got really noisy and confusing. I wasted about a year and a half and thousands of dollars to achieve my "internet marketing education" never realizing that it was the WRONG education.
One Small Glimmer Of Hope
During this time, I bought a $500 product from a well known internet marketer. I was actually very lucky with this particular purchase because I ended up learning how to make my own product and put it up for sale on the internet. This is a wonderful internet marketing skill to have. I ended up launching my product in November of 2009.
To my disappointment I did not make the thousands of dollars that I was expecting to make but I did go through the whole process of making my own product, creating my own affiliate program, setting up my own sales website, finding joint venture partners, and running my own product launch. I think this experience was invaluable and I also ended up becoming good friends and partners with the internet marketer who sold me the product that taught me this process.
From this valuable experience I gained a great friend and business partner who made me his affiliate manager and we partnered on training calls as well. I also ended up meeting another famous internet marketer through my partner who ended up hiring me to work in his support desk in January 2010 so no more customer service on the phone. I started helping this famous internet millionaire's customers use his products and services and was able to see how he ran the backend of his business. I was still stuck in my office downstairs in my basement from 9:00 to 5:00 five days a week but at least my kids could come down and see me and we didn't have to worry about background noise.
Back To SBI!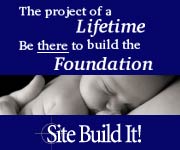 In the end, after all of my experiences, I ended up going back to SBI. I can't even describe the relief I felt. It was like coming home again! or as Dr. Phil says "It (Site Build It!) was my soft place to fall".
I got off all of the internet marketing guru email lists and shut out all the noise. I started working on my TipsForMoms.com website again and building web pages and following the proven C>T>P>M process that SBI teaches.
I slowly began to realize what a valuable education I had received through Site Build It! way back in January - March of 2009 and that this was the only education that I needed to follow.
The Content>Traffic>Pre Sell>Monetize (C>T>P>M) process the SBI teaches works better than any get rich quick scheme that you can buy out there.
Currently I am still working at building my internet business only this time I am doing it with Site Build It!. I am building my web pages with the proven process that SBI teaches, I'm at a good position in the Google search engines, web surfers are visiting regularly and I am starting to make sales!
Even though I know how to build web sites using the infamous WordPress platform, I will stick with Site Build It! because they have taught me how to build a REAL internet business and not just a website to make quick sales from.
I plan on building TipsForMoms.com into the popular website that I know it can be with SBI's help and be able to stay at home with my kids and work my own hours building a business I love.
To find out more about Site Build It! and how this incredible tool can help you build your very own internet business and enable you to be at home with your children as well, please click here. It may be the best decision you ever make.
Carpe Diem (Seize the Day!)
Alicia
P.S. There is also a really great free ebook called "WAHM-IT! The Masters Course" that will show you how to use the Net, the right process, and the right tools to achieve the work at home success that you have been dreaming about...