About Alicia
You may be wondering a bit about me and exactly what qualifies me to give you all this amazing information? Well... I'm a mom, just like you! My name is Alicia Bowyer ... fellow family manager and work at home mom. My family of five keeps me very busy and gives me what I believe to be the best qualifications I need to give great advice and help.


I am also a Certified Family Manager® Coach! I help people simplify their life and create a happy, organized home. I also teach them how to involve their family in the process. The best part of coaching is, I get to help people and make a difference in their lives.
I am here to help today's moms. Our lives are complex. Armed with cell phones, the Internet, double ovens, grocery stores that deliver, and casual office attire, we are world-class multi taskers, but we are still the most time-strapped generation ever. Maybe you can relate. You may count yourself among the 95 percent of moms who, according to AOL, are online two hours every day. You want instant information, so you head to the Web when you need answers. You compare prices, search for coupons, respond to blogs and solicit advice. Often your research nets too many results. Finding ideas or opinions is easy; knowing which sources to trust isn't.
That's where Tips For Moms can help. Growing wiser and working smarter is what the Family Manager® way of doing things is all about, and it can transform your life. In my own quest to be a good mom and successful manager of my home I spent many late hours researching the Internet. I finally found a concept that suited my family and can suit yours too. Trust me: This concept will make your home and life run more smoothly than you ever dreamed.
Now, just so you understand me correctly, I am not talking about turning your home into a stale corporate environment here and please do not think that I am telling you exactly how you should run your home. (You'll see in these website pages that that's not true.) I do, however, want you to benefit from my experience and avoid learning things by trial and lots of errors like I did.
Looking for great resources that I can share with other moms as well as gathering and writing the best information and articles I can and adding my own ideas and spin to them is something I enjoy.
I started building websites in January 2009 and it has definitely been a very big learning experience for me. My first website was www.TipsForMoms.com and when I decided that I wanted to start building and publishing my own website I spent a lot of time researching for just the right platform to help me with this creative new task.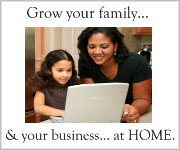 I was lucky that I had done my research skillfully and ended up using Site Build It!
Site Build It! has been a great resource for me and has been an invaluable tool. Everything I know about building a great home business on the internet I learned from SBI (Site Build It!). It is the ultimate all in one tool!
If you are interested in learning more about my personal story of how I started my internet business you can read more here.
My hope is that you will come to think of me as a trusted friend and resource for your home and family. There's nothing more important!

For the family manager and her "team",







Alicia Bowyer
Certified Family Manager® Coach